proALPHA Workflow Management

Automated Workflows and Event-Driven Business Processes
proALPHA automates all business processes, from sales and routing to production and assembly. Workflows help you design efficient tasks and processes in proALPHA ERP. It is possible to define each individual step. This allows you to establish a consistent working method for the entire company, which is crucial if you want to ensure high service quality and compliance. After one step has been completed, the workflow automatically continues with the next step without employees having to intervene. As a result, they can spend more time on important tasks.
Functionality and more
Detailed information about proALPHA Workflow Management in this PDF.
The Highlights of proALPHA Workflow Management
Automated workflows reduce processing times
Convenient definition of rules to handle corporate processes
To-do lists with overviews of pending tasks
Automated process documentation ensures compliance
Feature of the proALPHA standard version, no additional license costs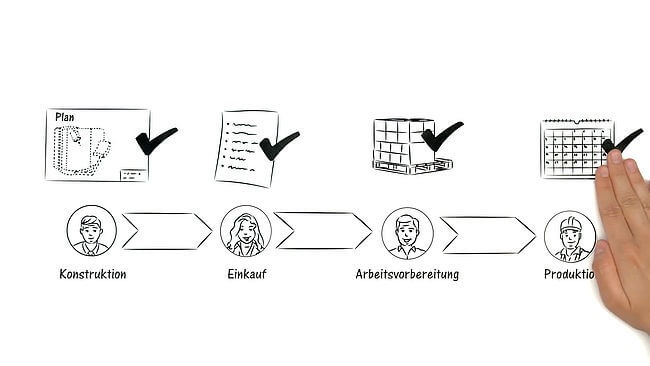 Workflows for Reliable and Versatile Process Control
Workflows can be used to automatically send internal e-mails. However, proALPHA's fully integrated Workflow Management has more to offer. It is a powerful tool that works with event-based rules to convert fixed, predefined processes into fast, versatile workflows. For example, it is possible to forward a quote that is to be released to various specialists depending on its value.
Keep Tabs on Pending Tasks with To-Do Lists
All the tasks of an employee are displayed on a to-do list, such as open quotes, reminders, and notifications of budgeted variances. To complete these tasks, employees can access them from the to-do list. This greatly adds to usability.

The proALPHA Workflow promotes reliable and transparent process control.
Master Complex Processes and Ensure Compliance
A specific event may trigger the completion of an automated process or even stop this process. Examples of such events include statuses of machines and exceeded credit limits. Complex workflows featuring several events and transactions provide the basis for this. They are either completed manually or have been partially or fully automated. It is also possible to document processes automatically to ensure compliance.
Easy Configuration
proALPHA Workflow Management offers numerous templates. They can be modified and extended to suit your needs. You can also create new workflows using the graphic designer, without any restrictions All categories and events in proALPHA ERP can be linked.
proALPHA ERP – All Processes at a Glance
What proALPHA ERP also does