hawo GmbH
proALPHA: The Solution for a Retail Pro
Solutions for pros. With this slogan, wholesale trader hawo sells everything that is needed in a house or apartment and on its walls: flooring, paint, insulating material, fancy battens, accessories and a great deal more. Materials are delivered from the headquarters in Heppenheim to twelve hawo shops and other regional handicraft businesses. hawo can't and won't risk any delays since the painters, floorers, plasterers and decorators usually need the goods very quickly. proALPHA ERP efficiently handles business with chain stores and wholesales, thereby ensuring that hawo can deliver goods on the same day even at peak times. In addition to this, employees on field service are provided with the information they need for their appointments with customers via the proALPHA Web Portal. And proALPHA Materials Management keeps tabs on every item in the random warehouse.
hawo promises its customers that goods are delivered on the same day provided that they are ordered by 7:30 in the morning. To be able to keep this promise, hawo uses almost everything proALPHA has to offer: Sales, Purchasing, Materials Management, Financial Accounting, Random Warehousing, and Service. By means of the comprehensive ERP solution, hawo manages 8,000 listed customers, 20,000 square meters of storage area, more than 1,000 types of wallpaper and 10,000 storage locations for palettes of paint.
In a nutshell: hawo is pretty well organized. The automated business processes pay off. The revenue per employee is above average. All process of retail business and wholesale trade can be mapped in proALPHA, which was not possible with the legacy system.
Highlights
Fully integrated ERP solution featuring stringent process logic
High level of automation
Central storage of data and documents
Optimum control of chain stores
Field service incorporated via web portal
Efficient storage and logistics processes incl. random warehouse management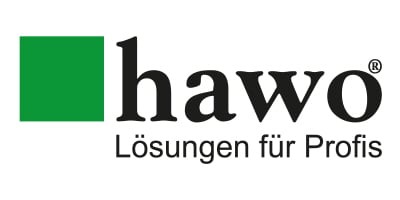 Industry: Wholesale
Sites: Headquarters: Heppenheim, Germany; twelve stores in Rhineland-Palatinate, Hesse and Baden-Württemberg
Producs: Thermal insulation composite systems, plastering, paint, coating, flooring, wall coverings, tools, machines with rental service and accessories
Revenue: €24m (2015)
Employees: 120