How can ERP systems help you record, control and document your company's carbon footprint?

Digitalization and carbon neutrality don't contradict each other. On the contrary: sustainable carbon management even requires an extensive digitalization. All relevant data of a company are stored transparently in ERP systems, making them the central data and process hub. In addition to MES and TMS (transport management systems), they are an important source for calculating and controlling emissions.
The Climate Goals of the EU and Germany
The German government has set the ambitious goal to reduce greenhouse gases by 65 percent by 2030 compared to the year 1990. To achieve this, Germany will have to save 372 metric megatons of carbon over the next ten years. Driven by this political and social agenda, ERP systems and business intelligence solutions become central tools for the protection of the environment and the climate, especially in terms of carbon management.
Starting in 2024, most companies will be obligated to create reports on their carbon footprint. Already today, they are being put under pressure by banks, auditors and others. Many SMEs in the manufacturing industry are already facing the challenges posed by climate neutrality and carbon management.
Successfully implement digital sustainability management
The whole company must act in concert
All departments of a company, be it financial accounting, development, sales, purchasing, production or after-sales, they all have an impact on the carbon balance. Consequently, carbon management should be a strategic goal of the whole organization. It's essential to understand, reduce, compensate, and communicate the carbon footprint.
This is only possible with correct and complete data. As the single source of truth, the ERP system lays the groundwork for all analyses and continuous measures related to an integral carbon management and eventually carbon neutrality. This includes:
Continuous carbon tracking
Development of reduction strategies
Implementation of reductive measures
Monitoring the development of emissions
To this end, the data stored in the ERP system are prepared by special software solutions for carbon tracking like Planetly, Klima.Metrix or PlanA. The carbon emissions are then calculated on the basis of standards like GRI, DNK, SBTi and EU Taxonomy. This finally yields the carbon balance and carbon footprint.
The ERP system as the reliable basis
ERP systems are currently undergoing massive technological changes. They are transitioning from classic ERP to intelligent ERP and through to automated ERP. Besides moving toward cloud and platform technologies, ERP systems actually develop cognitive and intelligence abilities. This is possible with the advancement of AI algorithms.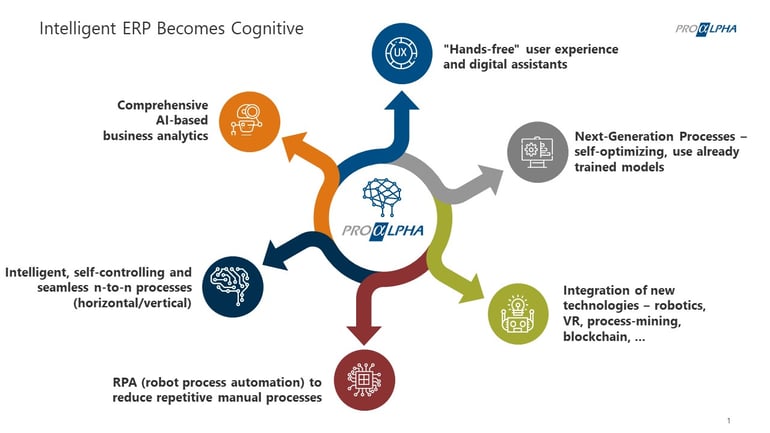 Holistic carbon analyses on the basis of scopes
In carbon management, scopes are used to differentiate between direct carbon emissions from owned assets and the indirect carbon footprint. The latter refers to emissions resulting from purchased energy and those produced in the supply chain, including all upstream and downstream activities. How this works is illustrated by the following graphic.


With a carbon management tool deeply integrated in the ERP system, the backbone of the added value, companies can work themselves toward their goal of carbon neutrality. Based on the data from ERP, MES and TMS, such software specialized in carbon neutrality provides extensive initial analyses of the carbon emissions.
Reductions in all relevant areas can be achieved on the basis of the ERP system. This includes, for instance, supply chain management, materials planning, product engineering, production planning, sales planning, vehicle fleets, transport systems, and all sales activities. This information helps companies use primary products with a good GHG balance instead of primary products with high carbon emissions.
They can drastically reduce the resources used, for example by consolidating procurement processes, by consuming less energy and paper, by having fewer business trips, less packaging and production material, by saving operating resources, and finally by preparing or recycling production waste.
Moreover, surplus production can be avoided as sales and material planning are improved. This makes extensive carbon balances and continuous carbon tracking possible for producers. It also allows them to derive measures for reducing emissions and compensating for the carbon footprint.

Companies can become carbon-neutral by agreeing on at least initial compensations like the reforestation of rain forests, renaturation of bogs or humus certificates, and by implementing them either themselves or commissioning a specialized third party. Companies are attaching more importance to the sustainability of their suppliers because it has an impact on their own sustainability. For instance, if you purchase preliminary products with a negative carbon balance, your own carbon footprint becomes bigger, too.

Set digital standards together with political players
There have already been some workshops on the topic of sustainability with ERP providers like proALPHA, Germany's Federal Ministry for the Environment and Nature Conservation, the German Environment Agency, the various states' environment agencies and numerous politicians.
However, it turns out that many players don't know much about the applications and data from the manufacturing sector yet. Vice versa, the industry and software providers are often unaware of the requirements related to sustainability and carbon neutrality. This makes it very clear that there has to be an exchange between the business software providers, the German Environment Agency and manufacturing companies in the future.

ERP providers must ensure the integration of all relevant data sources along the company's value chain and supply chain, so that manufacturing companies above all can integrate and use special carbon tracking solutions.
Sustainability status of the manufacturing industry
Transition is in the air. Still, sustainability and carbon tracking must be integrated more deeply into the processes of software providers and manufacturing companies. A comprehensive carbon management relies on the standard connection to all relevant data points and the integration of further analysis applications like business intelligence solutions. This will yield findings from which the manufacturing companies can derive the right measures for carbon reduction.
A recent study targeting software providers and users for the research project "Digitale Steuerungsinstrumente für das Umwelt- und Nachhaltigkeitsmanagement" (roughly: "Digital Controls for Environment and Sustainability Management") commissioned by the German Environment Agency has come up with the following findings:
Software providers and customers the like have a strong desire for standardization, for instance when it comes to the calculation of climate balances.

Companies want the option to easily integrate various software solutions.

Software providers believe that companies often don't make full use of the provided functions for large-scale sustainability management.
Statutory regulations on the one hand and the growing significance of sustainability on the other hand are central drivers of sustainable business management. Intelligent ERP systems in their function as a company's central data and process hub and the single source of truth combined with special solutions for carbon tracking will create new technological solutions and potentials for implementing full-scale carbon management.